Starting a blog! Inspired by Mooshi on EDC forums. Mostly because I'm bored, but I figured I might as well blab. And I always wanted a blog. Because I'm so self centered. Just an EDC update for my first post. (EDC- Every Day Carry.) I figure I"ll do this whenever things change, and maybe in depth review/talk/blabber about some of my EDC items. I'm mainly into knives, but also extend to some other EDC stuff.
I carry everything in my pockets, and add a Camelback if it's necessary. With a camelback, I just carry a larger FAK (first aid kit), spare batteries for my flashlights, maybe a fixed blade if I'm out camping, water, pen, ink, and some stuff for wherever I'm going. But I usually just stick with my pockets.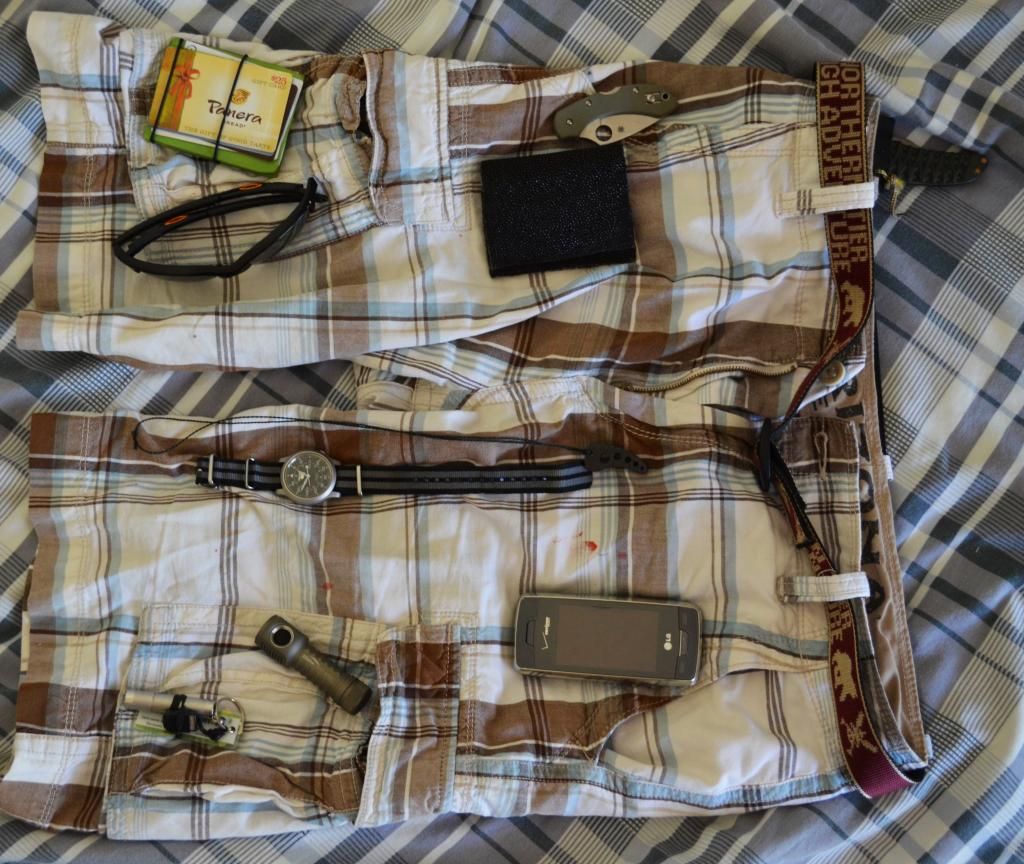 There. I just laid everything over where I usually carry it. Except for my Seiko 5 watch. Which goes on my wrist. And I wear a necklace around... my neck!
So at the right thigh pockets, I carry my Oakley Half Jackets (I can't believe they made a version 2 already!). Polarized lenses, I forgot what tint. I just throw them in there loose- the wallet doesn't really ding it up at all. My wallet is just two slabs of Toxic Green G10 that I keep together with O-rings. It works pretty well- you just pull the one in the middle all the way to the o ring on the left, and the wallet sort of hinges with the o rings and fans open. I usually carry my Driver's License where the gift card is so that I can just show it without doing anything. But internet and privacy issues.
In the right pocket, I carry a small FAK (neosporin, bandaids, gauze, duct tape, antibiotic wipes, hand santizing wipes, and butterfly bandaids. The last one is for my knife cuts.) Then I also throw in a small knife. I just won a Spyderco Dragonfly in Foliage G10, so I've been carrying that one around.
Left pocket is just my POS cell phone. I kind of regret buying it because it was like $50 for the phone. (I'm not sure what this is called, but basically I buy a phone, and then I can get cash loaded on the account for the phone.) And it is fat. The screen opens up to text, and I rarely text anyways. It's too heavy and thick to be practical, but oh well.
Left thing pocket is either my keychain or the Zebralight. I don't really have keys- car keys goes in my right front pocket. So my keychain just has a house key, a USB, library card thing, and a Preon 0. Lately, since it's summer and I don't need the USB, I've been carrying my Zebralight SC52cw. Amazing flashlight. I'll probably do a post about it later.
And finally, at 4 'o clock, I carry a knife. I don't always carry it for a short drive somewhere, but if I'm going out and expect heavier usage, I carry it. It's one I made last year, a 4" D2 blade with Anso-textured black/OD green G10 handles. Liner lock. It's carried in a self-made kydex sheath that slides onto the belt IWB. And yes, I will post something for all these TLA (three letter acronyms.)
I kind of dread winter now. I'll probably go back to wear jeans... and then oh no. Two pockets. Maybe I'll have to go to my buttpockets, but I'm always afraid I'll squish the thing with my fat. But I added the FAK during the spring.. so I'm not sure how it'll fit. Usually I just collapse everything upwards (so everything on the right side goes in the right pocket and such.) But a FAK and a wallet=problems.
Oh well, there's my first post. Woot woot.