So, for those of who don't know, I'm also a novice knifemaker. And by that, I mean I fiddle around and do stuff with knives. I'm not good at it, and I'm much too impatient to get a good finish, but I'm proud that my knives lock up with zero blade play- pretty hard given the tools I use. I use no electrical tools except for a hand held drill. So the amount of precision I'm getting is very debatable. But it works out. Here's what I've done so far, in order: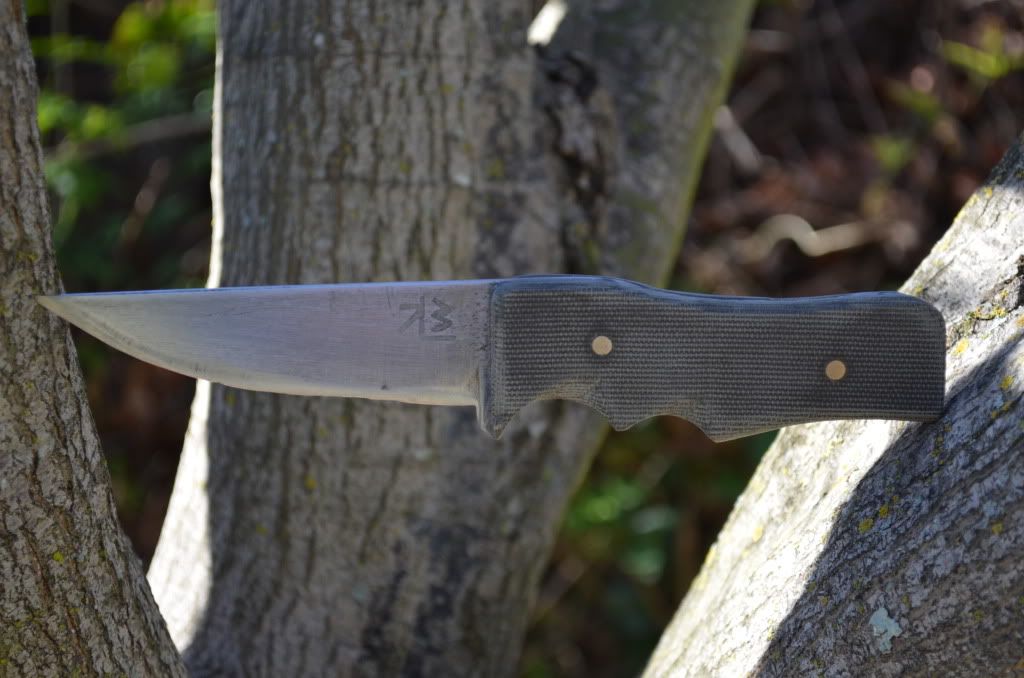 My first knife. Finished around February of 2012. Down the rabbit hole we go! Made of 1084 steel, self-heat treated, with micarta handles. The edge is uneven towards the handle, but I've sharpened that bit out by now. Not very elegant, but hey! It's a start. If you visit me while I'm sleeping, this is the knife I'll pull from behind my teddy bear.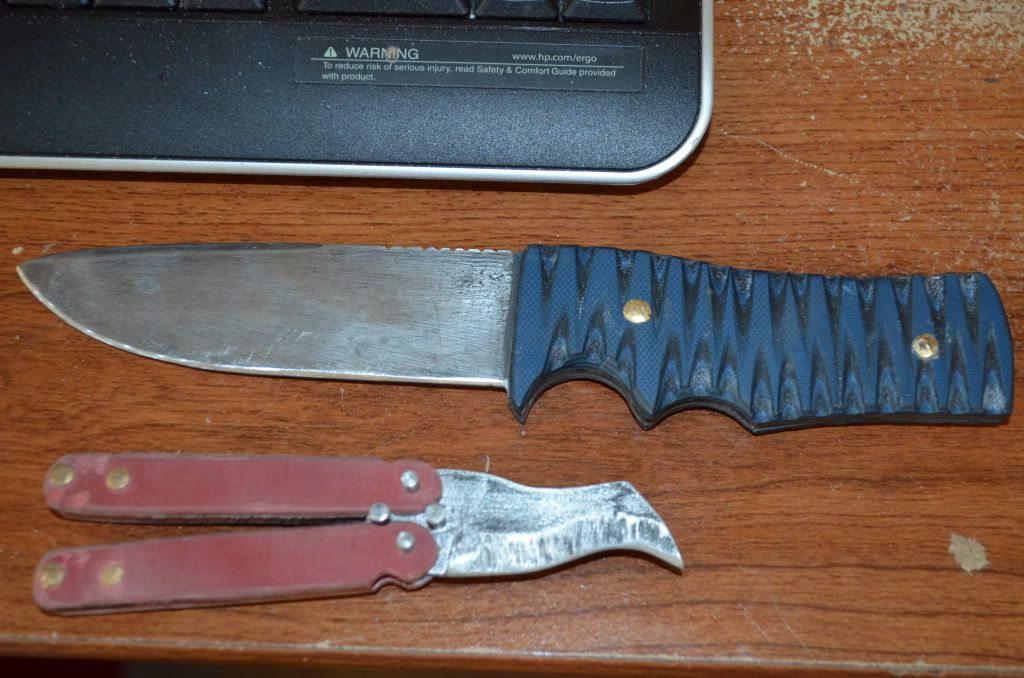 The top knife is a bunch of lasts. I made it for a friend. It's the last fixed blade I've made as of date, and the last knife I'll sell. Well, so far. It takes me too long and it becomes sort of a burden to make knives that way. I like to do it with no obligation, no timeline, and when my gut tells me to. The bottom one was a quick balisong that I made. I made it for the flipping factor, and in fact, the blade isn't even sharp. Notice the terrible finish on it. I'm thinking of making a new balisong, with a decent CPM 154cm blade. But that remains to be seen. Living in California... well it has to be tiny.
A snubby. My first liner lock ever. It wasn't a great linerlock, since there was around 1/32" of blade play up and down. But first attempt. I ended up going too fast and filing too quick on the blade tang, and ruining the lock up. Oops. This was finished with the two above in June of 2012.
This one was finished in around October 2012. Change in steel- D2. This knife was made to be a more heavy duty user. Still carry it today, but i don't really like the recurve area anymore. Nice smooth flipping action. Only problem is I slammed the tip doing a backcut, and the lock-up (which was perfect), slipped to nearly 100%. I now pre-compress all my titanium liner locks. Thankfully, there's that little hole in the blade, almost looks like a miniture spydie hole. I drilled it so that if the liner lock ever wore out until the knife can't be used, I can hammer in a new stop pin, and use that one instead. I thanked myself after I nearly destroyed the lock-up with a back cut. The knife didn't have up and down, and had a bit of side to side blade play. However, it has a miniscule bit of up and down after the lock accident. It still holds up so I haven't bothered to use a new stop pin.
The airweight. Weighs in at merely 37 grams with a 3" long blade. Thin thin blade, and nearly zero ground. It was made to be the lightest possible knife while sporting a full sized blade and handle. I mainly carry this one for cycling, running, or hiking. Zero blade play in every direction. (well, as I could detect.) The only thing is the detent ball sticks out too far, so the opening is very difficult. It's almost a two handed opening. Oops. Finished around March of 2013.
And in April of 2013 (I work on two or so at a time, so it's not like it took me a month to get this one done.) D2, stonewashed blade, some sort of thumbstud (1/8" pin). G10 handles. Chisel ground. Completely. This was made for my father. He wanted one to carry to work and to slice fruits/prepare lunch there. Hence the chisel ground- it was also an experiment with chisel ground blades. I ended up liking the grind a lot. Not a lot of detriments for daily use, cuts better, and definitely easier to grind. (Did I mention I was lazy?) Again, nice lock up, almost no blade play. This one ended up with a hair of side to side, unfortunately.
And that's what I've done so far! These knives take forever. Maybe 40 hours or more, depending on the grind. But it's fun, and I love grinding steel. So yup. It's been nearly 2 years since I've started making knives. Unfortunately, school kills my time.